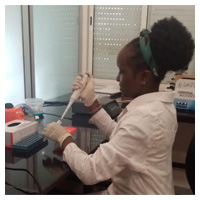 MELVIN KERUBO ONDIBA
Melvin Kerubo is a Volunteer, Ichthyology Section, Zoology department and Molecular Genetics section, Centre of Biodiversity Department at the National Museums of Kenya. She graduated with a Bachelor's degree in Biotechnology and Biosafety at University of Eldoret in 2018. She also graduated with a Master's degree in Biodiversity Conservation and Management at Mohammed V University, Morocco in 2021.
Research Interest
Melvin has great interest in Barcoding, Molecular genetics, Bioinformatics and Biostatistics, Marine Biology and Aquaculture, Biosafety and Biosecurity. She has carried out some laboratory activities such as stock taking of chemicals, media preparation, field sampling and inventory of specimens, DNA extraction, amplification, sequence, data analysis and general laboratory management.
Email: This email address is being protected from spambots. You need JavaScript enabled to view it.

                             MILDREN ACHIENG
Mildren Achieng Juma is a graduate with BSc. in Natural resources (Aquatics Option) from Karatina University in 2018. Also a graduate in Climate Justice, first cohort at the Kenyatta University and Pan African Climate Justice Alliance in 2021.
Volunteer at the National Museums of Kenya, Zoology department- Ichthyology Section. Interest is in research, mainly aquatics, conservation and climate change adaptation.

                             MIRIAM SHIGOLEY
Miriam Isoyi Shigoley is a rising young scientist specializing in freshwater fish parasitology. She earned an undergraduate degree in Applied Aquatic Science in 2016 from Egerton University in Njoro, Kenya. Following that, she attended Mohammed V University (Rabat), where she earned a Master's Degree in Biodiversity and Conservation Management in 2021. She previously worked as a volunteer at the National Museums of Kenya's Ichthyology section and as an Aquaculturist at Kamuthanga Fish Farm Limited (Machakos).
Research interest
Miriam is interested in conservation biology, particularly freshwater fishes (Cichlidae) and their parasites. She is also interested in tilapiine fish aquaculture in Africa, where she hopes to provide an overview of the relevant parasites and their roles in aquaculture productivity and system health.
 Email: This email address is being protected from spambots. You need JavaScript enabled to view it.

                                  PURITY NJERI
Purity is currently a student Pursuing MSC. Biology of conservation at the University of Nairobi, having completed her BSC. Botany and Zoology at Chuka University.
She is also a volunteer at the National Museum of Kenya, Ichthyology section, where she has extensively built her skills in biodiversity assessment, field monitoring and data management.
Her Major interest is in the Biodiversity and community based conservation. She is driven by a passion for community education on the importance of sustainable biodiversity use and youths in environmental conservation.

                                    THOMAS ODEYO
Thomas Odeyo is a conservationist. He holds a B.Sc. in Biology from Kenyatta University. Thomas is currently a research fellow at the National Museum of Kenya, Herpetology/Ichthyology section. His main research interest is exploring aspects of natural resources and strengthening community resilience and sustainable management of biologically significant terrestrial and freshwater ecosystems.
His research work is broad and covers the biodiversity of wetlands, including macroinvertebrates, ichthyology, and herpetology. Thomas is an active member of a team conserving the endemic and vulnerable Labeo sp. nov. 'Baomo' in Tana River Delta. He has also actively been involved in biodiversity sampling wetlands sampling in Nairobi and central Kenya.
The National Museums of Kenya (NMK) is hosting its 5th edition of the S...

   Click image to download strategy